Domestic Device
Practice / Shortlisted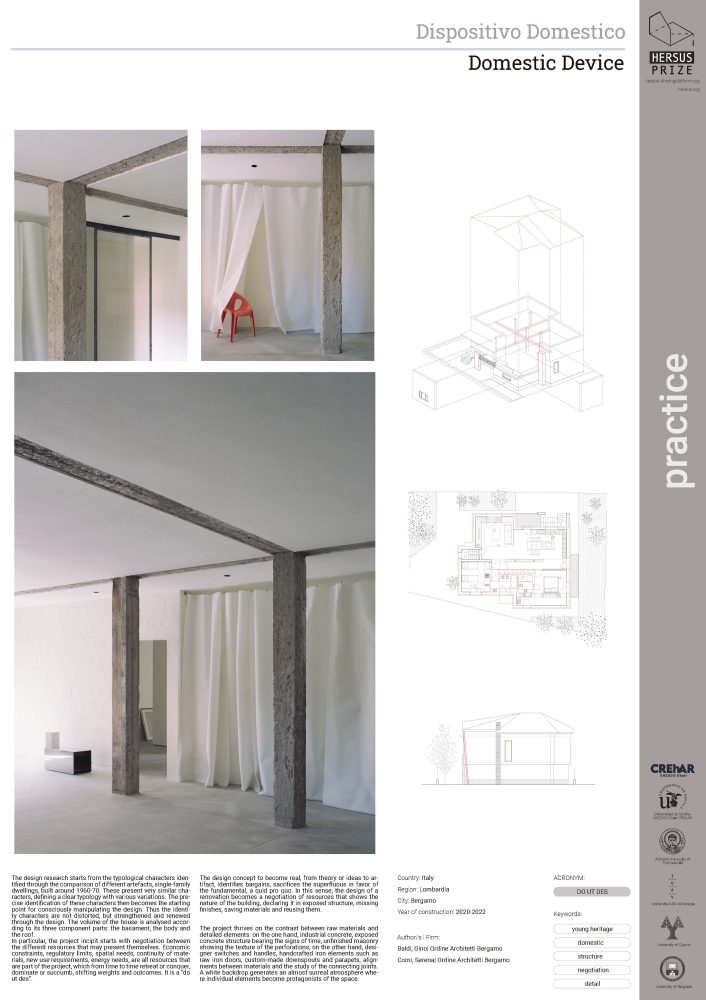 The design research starts from the typological characters identified through the comparison of different artefacts, single-family dwellings, built around 1960-70. These present very similar characters, defining a clear typology with various variations. The precise identification of these characters then becomes the startingpoint for consciously manipulating the design. Thus the identy characters are not distorted, but strengthened and renewed through the design. The volume of the house is analysed according to its three component parts: the basament, the body and the roof.
In particular, the project incipit starts with negociation between the different resources that may present themselves. Economic constraints, regulatory limits, spacial needs, continuity of materials, new use requirements, energy needs, are all resources that are part of the project, which from time to time retreat or conquer, dominate or succumb, shifting weights and outcomes. It is a "do ut des".
The design concept to become real, from theory or ideas to artifact, identifies bargains, sacrifices the superfluous in favor of the fundamental, a quid pro quo. In this sense, the design of a renovation becomes a negociation of resources that shows the nature of the building, declaring it in exposed structure, missing finishes, saving materials and reusing them.
The project thrives on the contrast between raw materials and detailed elements: on the one hand, industrial concrete, exposed concrete structure bearing the signs of time, unfinished masonry showing the texture of the perforations; on the other hand, designer switches and handles, handcrafted iron elements such as raw iron doors, custom-made downspouts and parapets, alignments between materials and the sutdy of the connecting joints. A white backdrop generates an almost surreal atmosphere where individual elements become protagonist of the space.
Authors: Gino Baldi; Serena Comi