Student Workshop 1 - Group 1
Emerging Fragments of Collective Memory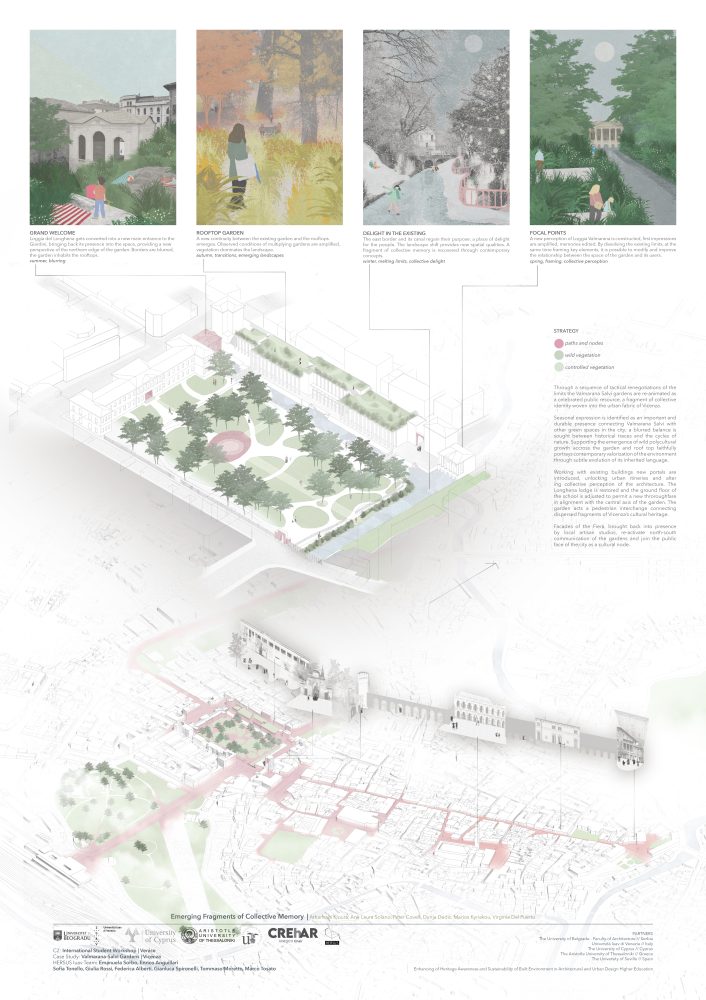 Abstract
Through a sequence of tactical renegotiations of the limits, the Valmarana Salvi gardens are re-animated as a celebrated public resource, a fragment of collective identity woven into the urban fabric of Vicenza. 
Seasonal expression is identified as an important and durable presence connecting Valmarana Salvi with other green spaces in the city; a blurred balance is sought between historical traces and the cycles of nature. Supporting the emergence of wild polycultural growth across the garden and rooftop faithfully portrays contemporary valorization of the environment through subtle evolution of its inherited language. 
New portals are introduced working with existing buildings, unlocking urban itineraries and altering the collective perception of the architecture. The Longhena lodge is restored, and the school's ground floor is adjusted to permit a new thoroughfare in alignment with the garden's central axis. The garden acts as a pedestrian interchange connecting dispersed fragments of Vicenza's cultural heritage.
Facades of the Fiera, brought back into presence by local artisan studios, re-activate north-south communication of the gardens and join the public face of the city as a cultural node.