Student Workshop 1 - Group 2
Inclusive accessibility | Sensorial routes through Heritage sites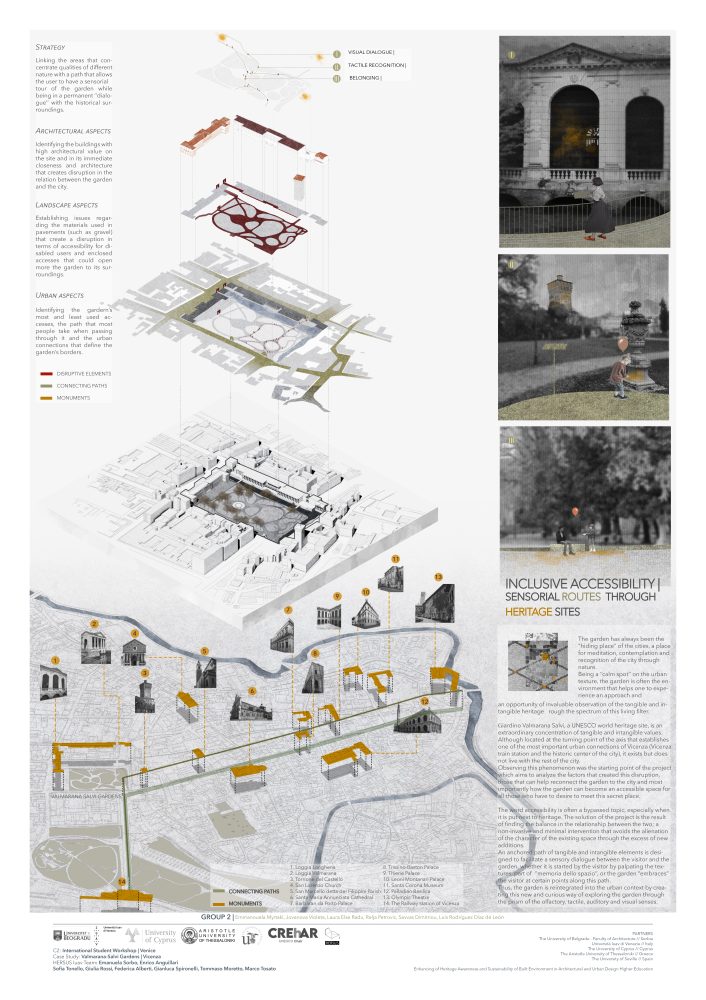 Abstract
The garden has always been the "hiding place" of the cities, a place for meditation, contemplation, and recognition through nature.
As a "calm spot" on the urban texture, the garden is often the environment that helps one experience an approach and
an opportunity for invaluable observation of the tangible and intangible heritage rough the spectrum of this living filter. Giardino Valmarana Salvi, a UNESCO world heritage site, is an extraordinary concentration of tangible and intangible values. Although located at the turning point of the axis that establishes one of the most important urban connections of Vicenza (Vicenza train station and the historic centre of the city), it exists but does not live with the rest of the city.
Observing this phenomenon was the starting point of the project, which aims to analyze the factors that created this disruption, those that can help reconnect the garden to the city and most importantly, how the garden can become an accessible space for all those who have to desire to meet this secret place.
The word accessibility is often a bypassed topic, especially when it is put next to heritage. The project's solution is finding the balance in the relationship between the two, a non-invasive and minimal intervention that avoids the alienation of the character of the existing space through the excess of new additions.
An anchored path of tangible and intangible elements is designed to facilitate a sensory dialogue between the visitor and the garden. The visitor starts by touching the historical textures, part of "memoria dello Spazio", or the garden "embraces" the visitor along the designed path.
Thus, the garden is reintegrated into the urban context by creating this new and curious way of exploring the garden through the prism of the olfactory, tactile, auditory and visual senses.