Student Workshop 3 - Group 2
Urban Interactions - Routes, paths & pedestrian ways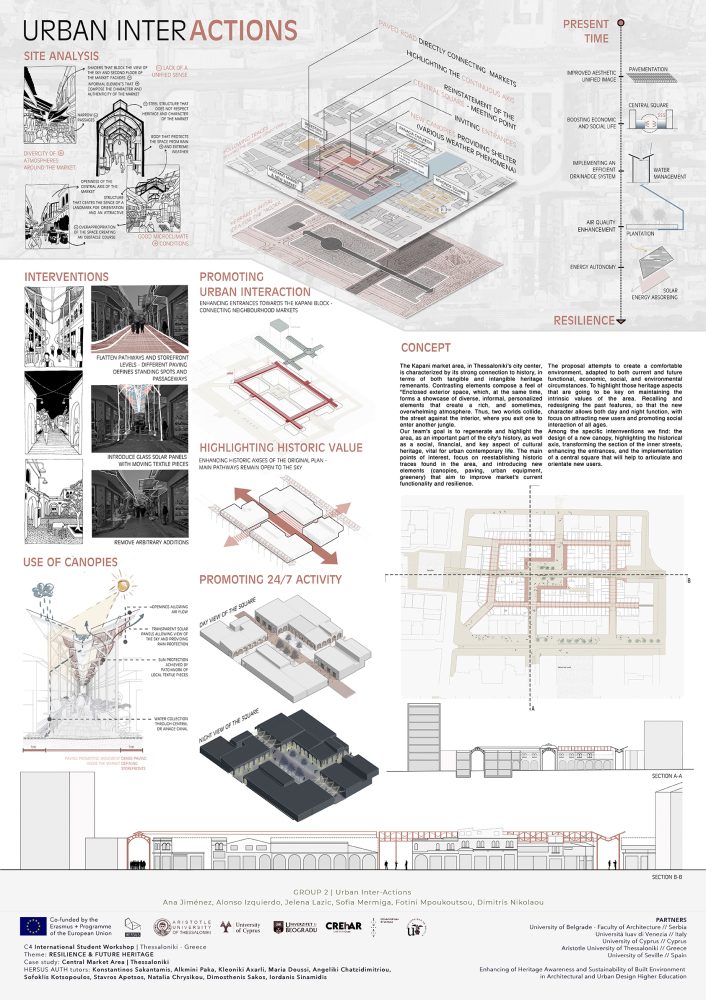 The Kapani market area, in Thessaloniki's city center, is characterized by its strong connection to history, in terms of both tangible and intangible heritage remenants. Contrasting elements compose a feel of "Enclosed exterior space, which, at the same time, forms a showcase of diverse, informal, personalized elements that create a rich, and sometimes, overwhelming atmosphere. Thus, two worlds collide, the street against the interior, where you exit one to enter another jungle.
Our team's goal is to regenerate and highlight the area, as an important part of the city's history, as well as a social, financial, and key aspect of cultural heritage, vital for urban contemporary life. The main points of interest, focus on reestablishing historic traces found in the area, and introducing new elements (canopies, paving, urban equipment, greenery) that aim to improve market's current functionality and resilience.
The proposal attempts to create a comfortable environment, adapted to both current and future functional, economic, social, and environmental circumstances. To highlight those heritage aspects that are going to be key on maintaining the intrinsic values of the area. Recalling and redesigning the past features, so that the new character allows both day and night function, with focus on attracting new users and promoting social interaction of all ages.
Among the specific internventions we find: the design of a new canopy, highlighting the historical axis, transforming the section of the inner streets, enhancing the entrances, and the implementation of a central square that will help to articulate and orientate new users.