TIME AND TRANSFORMATION. VILLA CITTADELLA GIUSTI DEL GIARDINO IN THE TERRITORY OF ONARA'S SWAMP
Social reuse strategies for a place of abandonment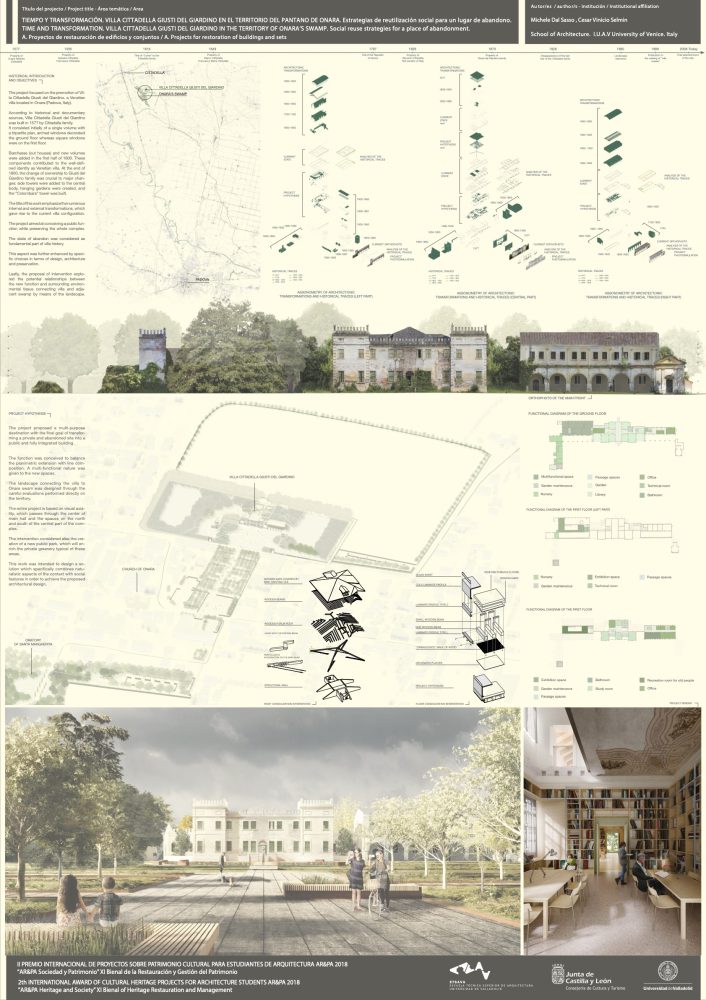 VILLA CITTADELLA GIUSTI DEL GIARDINO
HISTORICAL INTRODUCTION AND OBJECTIVES
The project focused on the promotion of Vil­la Cittadella Giusti del Giardino, a Venetian villa located in Onara (Padova, Italy).
According to historical and documentary sources, Villa Cittadella Giusti del Giardino was built in 1577 by Cittadella family.
It consisted initially of a single volume with a tripartite plan, arched windows decorated the ground floor whereas square windows were on the first floor.
Barchesse (out houses) and new volumes were added in the first half of 1600. These components contributed to the well-defi­ned identity as Venetian villa. At the end of 1800, the change of ownership to Giusti del Giardino family was crucial to major chan­ges: side towers were added to the central body, hanging gardens were created, and the "Colombara" tower was built.
The title of this work emphasize the numerous internal and external transformations, which gave rise to the current villa configuration.
The project aimed at conceiving a public fun­ction while preserving the whole complex.
The state of abandon was considered as fundamental part of villa history.
This aspect was further enhanced by speci­fic choices in terms of design, architecture and preservation.
Lastly, the proposal of intervention explo­red the potential relationships between the new function and surrounding environ­mental tissue connecting villa and adja­cent swamp by means of the landscape.
PROJECT HYPOTHESIS
The project proposed a multi-purpose destination with the final goal of transfor­ming a private and abandoned site into a public and fully integrated building.
The function was conceived to balance the planimetric extension with line com­position. A multi-functional nature was given to the new spaces.
The landscape connecting the villa to Onara swam was designed through the careful evaluations performed directly on the territory.
The entire project is based on visual axia­lity, which passes through the center of main hall and the spaces on the north and south of the central part of the com­plex.
The intervention considered also the cre­ation of a new public park, which will en­rich the private greenery typical of these areas.
This work was intended to design a so­lution which specifically combines natu­ralistic aspects of the context with social features in order to achieve the proposed architectural design.