Artist residence in Gerena
Education - Students / Prize (ex aequo)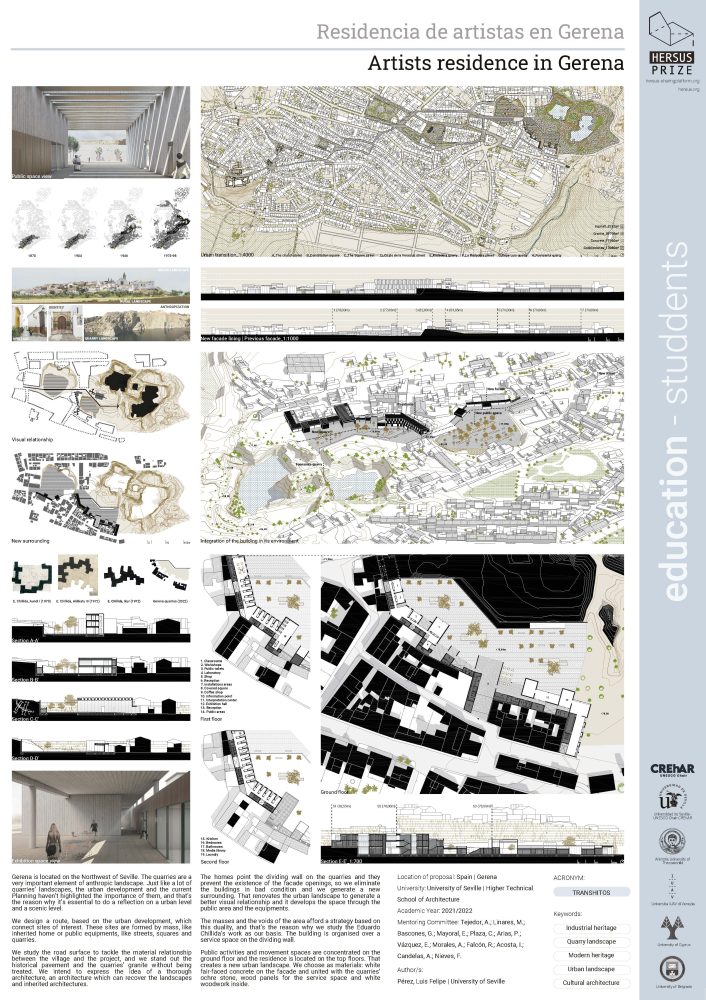 Gerena is located on the Northwest of Seville. The quarries are a very important element of anthropic landscape. Just like a lot of quarries' landscapes, the urban development and the current Planning haven't highlighted the importance of them, anf that's the reason why it's essential to do a reflection on an urban level and a scenic level.
We design a route, based on the urban development, which connects sites of interest. These sites are formed by mass, like inherited home or public equipments, like streets, squares and quarries.
We study the road surface to tackle the material relationship between the village and the project, and we stand out the historical pavement and the quarries' granite without being treated. We intend to express the idea of a thorough architecture, an architecture which can recover the landscapes and inherited architectures.
The homes point the dividing wall on the quarries and they prevent the existence of the facade openings, so we eliminate the buildings in bad condition and we generate a new surrounding. That renovates the urban landscape to generate a better visual relationship and it develops the space through the public area and the equipments.
The masses and the voids of the area afford a strategy based on this duality, and that's the reason why we study Eduardo Chillida's work as our basis. The building is organised over a service space on the dividing wall.
Public activities and movement spaces are concentrated on the ground floor and the residence is located on the top floors. That creates a new urban landscape. We choose as materials: white fair-faced concrete on the facade and united with the quarries' ochre stone, wood panels for the service space and white woodwork inside.
Author: Luis Felipe Pérez