Víctor Pérez Escolano: Designing Modern Built Heritage from Andalusia
Research Honorary Award / Prize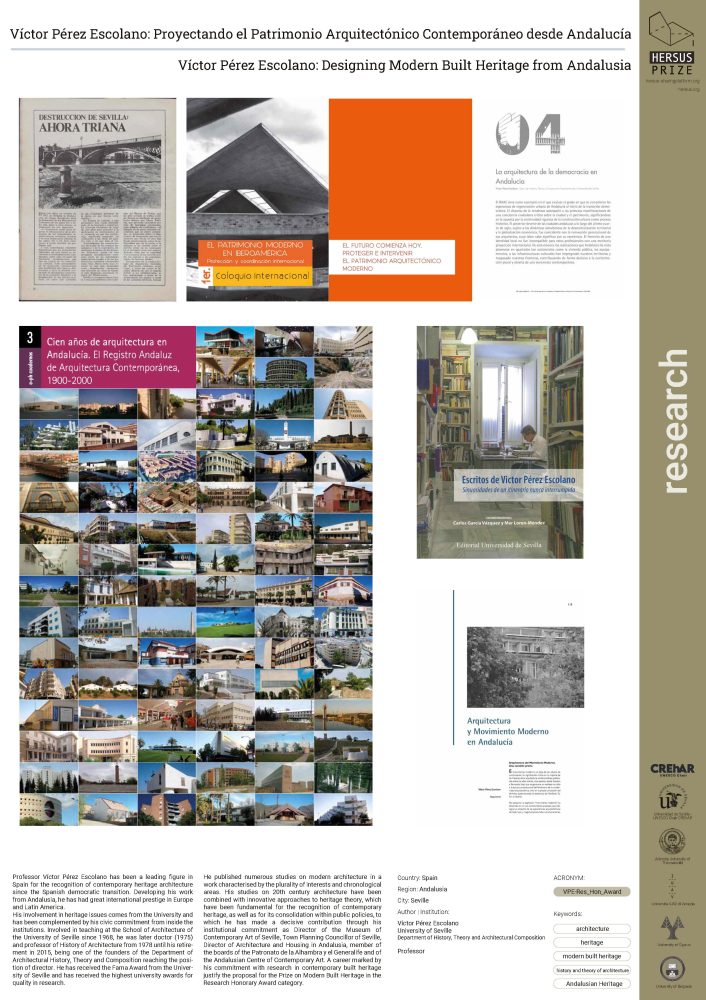 Professor Víctor Pérez Escolano has been a leading figure in Spain for the recognition of contemporary heritage architecture since the Spanish democratic transition. Developing his work from Andalusia, he has had great international prestige in Europe and Latin America.
His involvement in heritage issues comes from the University and has been complemented by his civic commitment from inside the institutions. Involved in teaching at the School of Architecture of the University of Seville since 1968, he was later doctor (1975) and professor of History of Architecture from 1978 until his retirement in 2015, being one of the founders of the Department of Architectural History, Theory and Composition reaching the position of director. He has received the Fama Award from the University of Seville and has received the highest university awards for quality in research.
He published numerous studies on modern architecture in a work characterised by the plurality of interests and chronological areas. His studies on 20th century architecture have been combined with innovative approaches to heritage theory, which have been fundamental for the recognition of contemporary heritage, as well as for its consolidation within public policies, to which he has made a decisive contribution through his institutional commitment as Director of the Museum of Contemporary Art of Seville, Town Planning Councillor of Seville, Director of Architecture and Housing in Andalusia, member of the boards of the Patronato de la Alhambra y el Generalife and of the Andalusian Centre of Contemporary Art. A career marked by his commitment with research in contemporary built heritage justify the proposal for the Prize on Modern Built Heritage in the Research Honorary Award category.
Author: Víctor Pérez Escolano